Converting from OST to PST with OST2PST Converter Software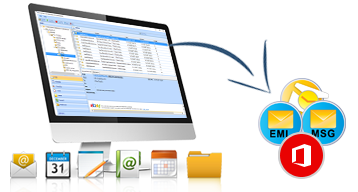 Quick Way to do OST to PST Conversion We hope you have reached this page, while looking for ost2pst exporter tools to convert ost to pst file. Most commonly used ost exporter tools by Exchange administrators are ost2pst.exe or osttopst.exe, which is actually the short name of the executable or software setup used to export ost to pst.
Download Now

Purchase Now
OST2PST Software to Convert Dismounted OST File
OST2PST software allows users to extract ost to pst file in few steps which involves locating all OST files and storing them into a common place for final ost to pst conversion.
What next! You can drown into great trouble!
What's the remedy? OST2PST conversion is a foolproof solution that lets you recover OST file email data by converting it to PST files, which can be viewed in Outlook.
OST to PST Converter is a remarkable OST2PST software solution that will make the process to recover OST data to PST a piece of cake for the recovery/migration in-charge in your organization. This simple and intuitive tool that falls under our email conversion product umbrella is a topnotch OST2PST converter tool, whose true worth will be acknowledged after you use it for OST2PST conversion process.
Flourishing Features of OST Converter Tool
OST to Non-OST: Using our tool, you can convert OST to various non-OST formats (PST, MSG, HTML, EML, PDF)
Retain Formatting: Enjoy the retention of formatting of RTF and HTML as present in original OST files
Recover ALL Items: Recover all OST mailbox items (mails, journals, contacts, tasks etc) as they will be converted from to PST
Deletion Will Also Not Stop You From Recovering Content: Software can convert OST to PST even after accidental deletion of Exchange user account or mailbox
Convert All kind of OST file: Easily Convert IMAP / Exchange / Office 365 OST file to PST format
Recovery after Exchange Server Crash Also: Rest assured of OST file recovery even after Exchange Server crash
Global Outlook Compatibility: This program is for all Outlook users! (Outlook 2019, 2016, 2013, 2010, 2013 (32 Bit & 64 bit), 2007, 2003, 2002 and 2000 version supported)
Download & Buy OST2PST Converter License
Delivery of license is immediate after product purchase. A email containing activation details and download link will be emailed directly after completing the product purchase to the email address used during product purchase.
Frequently Asked Questions
How To Convert OST to PST
Discussion about ost to pst conversion to read and convert ost files created via exchange server configured for Microsoft Outlook. By:
Evan Swans
How To Open Outlook OST File
Discussion about opening ost files to view & read email messages from offline storage files by converting them into readable outlook pst file format. By:
Ashley
How To Open OST File into Outlook after Converting it into PST file
Many times, users have this query "How to Open OST File into Outlook after converting it into PST file", and they want best and powerful solution for it. Our company has developed OST File Opener software as per user need, by using this software user can easily release/open OST file within few minutes after converting into PST file. By:
Ashley
How to Repair and Read OST File back into Microsoft Outlook
OST2PST Software allows users to repair OST files into Outlook at a time. Users also want to convert their OST files but they don't know more about How to repair and read OST file back into Microsoft Outlook. By:
Ashley
How to Transfer OST File into New Computer MS Outlook
How to Transfer OST File into New Computer MS Outlook is now easy with OST2PST software. Transfer OST File into New Computer MS Outlook in bulk in few simple steps. By:
Ashley
How To Split OST File to Safeguard it Against Corruption Due to Exceeding 2 GB Limit
If you are facing corruption issue then at this notion you should try this safe OST recovery software which provides you OST files into PST file. By:
Ashley
Does this application is compatible with Microsoft Outlook 2016 OST files?
Yes, This application is compatible with Microsoft Outlook 2019 / 2016 / 2013 / 2010 and its below versions.
Can I convert the orphaned OST file by using this OST to PST Converter?
Yes, the user can easily convert the inaccessible or orphaned OST files by using this software.